SERVICE 01"Nokyo" Digital Base

Make use of Japanese multi-purpose agriculture association's infrastructure for agriculture development in Africa
Background
The United Nations predicts that Africa's population will be 2.5 billion in 2050 (nearly double the current population) and the continent will have a high potential for agricultural and food-related markets. However, many farmers in Africa are smallholders, and it is difficult for them to obtain a stable income. In addition to factors in the value chain such as productivity, market access, and logistics, there are a variety of factors that hinders smallholder farmers from earning a stable income, including access to financial institutions and a lack of living infrastructure.
Nippon Biodiesel Fuel established a local subsidiary, Agro-Negócio para o Desenvolvimento de Moçambique, Limitada. (ADM), in Mozambique in 2012. Since then, ADM has been providing renewable energy, agriculture and financial information services in rural regions without electricity. In order to address the above issues, we have identified a need for the digitization of agricultural trades so that they can be operated even in fragile infrastructures, as well as the need for comprehensive agricultural cooperative functions such as the one in Japan, called "Nokyo", also known as JA (Japan Agricultural Co-operative). In 2019, we started developing an application called "Agroponto" for food value chain participants, that expands our contribution to the local community by linking the digitization service expertise and experience of NBF and the insights from the history of "Nokyo" that played a major role in comprehensive rural development in Japan.
In addition, the TICAD 7 (Tokyo International Conference on Africa Development) held in 2019 gathered together approximately 400 private companies participating in the Agricultural Working Group, whose discussions coalesced into an initiative called AIPA (Agricultural Innovation Platform in Africa). It was presented at the plenary session by CEO Mr. Goda on behalf of the Working Group. The initiative was adopted in the outcome document, the Yokohama Plan of Action 2019, and it was clearly stated Japan will take an initiative in building an agriculture digital base and promote advanced agricultural technologies to promote innovation in agriculture.
Service contents
We have been developing "Agroponto" as a system for organizing smallholder farmers, improving farmers' access to markets, and improving their livelihoods. "Agroponto" is an agricultural digital base which embodies the "Agriculture Innovation Platform in Africa" with the focus to make the efforts of farmers more visible, and to highlight the issues and impacts of the food value chain.
By digitizing the trade of agricultural products, this system enables fair and trackable commercial transactions of agricultural products. Previously, these commercial transactions were carried out unrecorded and with smallholder farmers having limited access to the market. The "Agropont" application allows the efforts of producers and other market participants to be observed and the stakeholder's work to be evaluated by the market. In addition, it illustrates where and what bottlenecks exist in the value chain by tracking the entire activity of the value chain, such as buying, selling, processing, and logistics. It contributes to the improvement of productivity and opportunities for the entire industry by enabling policy makers to strategize evidence-based policies and transaction rules, and international and domestic organizations to plan and manage projects based on the data.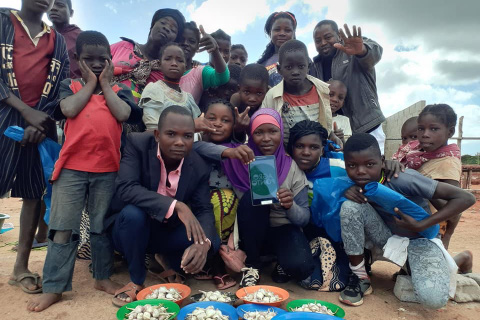 "Agroponto" serves as a platform beyond just matching buyers to sellers of agricultural products. In postwar Japan, agricultural cooperatives that organized smallholder farmers in rural areas took the initiatives to play a major role in the development of agricultural and living infrastructure. "Nokyo" have engaged in a wide range of businesses and activities, including: joint purchases of agricultural and daily supplies, joint sales of agricultural and livestock products, advising on farming and daily life, receipt of deposits, giving credits for agricultural production and life improvement, building jointly used facilities necessary for agricultural production and living, and providing mutual aid in case of emergency. Digitizing transaction information provides timely and more granular visibility into where and what has been done. This is what Japan can contribute to the world with her experiences and technologies by designing an agricultural digital base based on the Nokyo model. And providing useful information to improve lives of rural areas under the ownership and leadership of themselves. We believe the Nokyo model is the one which strongly contributes in nurturing mutual trust without relying on the central monitoring system to reduce uncertainty and increase the efficiency of the food value chain.
Development plan
We are conducting agile development of "Agroponto" application in rural Mozambique, while actively incorporating the voices of farmers and local residents. The application implements a matching function between prospective buyers and those who wish to purchase, allowing users to browse trading crops and obtain current market prices. It is currently being demonstrated in Mozambique, and from 2021 onwards, it will be deployed in rural areas of Senegal, South Africa, and other African countries.
Benefits from Agroponto